Journal of Harmonized Research in Management
Journal h-index: 5

Journal CiteScore: 0.41
Journal Impact Factor: 0.17
Average acceptance to publication time (5-7 days)
Average article processing time (30 - 45 days) Less than 5 volumes 30 days
8 - 9 volumes 40 days
10 and more volumes 45 days
Journal of Harmonized Research in Management , is a peer reviewed international journal, which is published on quarterly interval. It is an official publication of Journals of Harmonized Research, which is parent publication of various scientific journals. The main objective of JOHR is to promote genuine research work, research ideas worldwide. It provides authors a platform to explore their research by publication with us.
Journal of Harmonized Research in Management invites original research, review articles, short communications, case study/case reports in diversified fields like International Business, Health Care Administration, Human Resource Management (HRM), Non-Profit Organizations, Office Administration/Management, Operations Research/Statistics, Operations Management, Organizational Behavior and Theory, Organizational Development, Organizational Management, Production/Operations, Public Administration, Purchasing/Materials Management, Entrepreneurship, Strategic Management Policy, Technology/Innovation, Tourism and Hospitality, Leisure, Transportation/Physical Distribution, Supply Chain Management, Rural Management, Public Management, Knowledge Management, Business Ethics, Corporate Governance, Corporate Social Responsibility (CSR), Negotiations and Competitive Decision Making, Data Analysis, General Management, Public Policy Management, Hotel Management , and Environmental Management.
Article Processing Charges
The basic article processing fee or manuscript handling cost is as per the price mentioned above on the other hand it may vary based on the extensive editing, colored effects, complex equations, extra elongation of no. of pages of the article, etc.
Regular Article Charges: 1019 Euros
Manuscript Submissions are accepted directly through the Editioral Tracking System.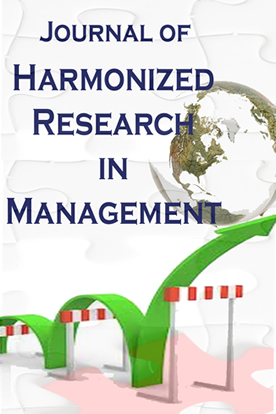 h-index
Articles published in Journal of Harmonized Research in Management have been cited by esteemed scholars and scientists all around the world. Journal of Harmonized Research in Management has got h-index 5 , which means every article in Journal of Harmonized Research in Management has got 5 average citations.
Current Issue
Vol 7 (2021)